Treasure Chest. Raise a glass to find a cure
Treasure Chest
Established in 2011 by Green Flash Co-Founder and breast cancer survivor Lisa Hinkley, our annual fundraising program raises money to support breast cancer charities. Each year, we introduce an exceptional limited release beer starring a new pinup-inspired icon.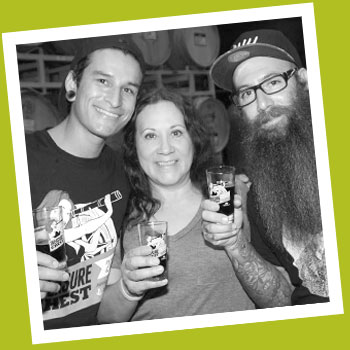 Raise a Glass to Find a Cure
With a lofty fundraising goal of $150,000, we need your help! Attend a Treasure Chest Fest in San Diego or Virginia Beach, enjoy Treasure Chest at your local pub or look for 22 oz. bottles at your local bottle shop. You can also help us spread awareness by sharing a picture of yourself cheering with the hashtag #RAISEAGLASS2015 on any of your social networks.
About the Beer
Say Aloha to Treasure Chest 2015, an exotic pink IPA brewed with grapefruit, prickly pear juice and hibiscus flowers. Erupting with fruit-forward complexity, 100% Mosaic hops present aromas of heady citrus and refined stone fruit. The pleasantly bitter flavors of the hops are enhanced by the addition of fresh grapefruit juice. Offering balance to offset the bold citrus notes, prickly pear juice imparts a peppery-sweet kick in the finish. Tropical Hibiscus flowers give this beer a naturally pink hue, a nod to the official color of the Treasure Chest mission. 5.7% ABV | 65 IBU
Lisa's Story
This year, we have many reasons to celebrate. I am grateful to be 5 years cancer free and thrilled to present the 5th annual Treasure Chest campaign including the national debut of this year's limited edition beer both on draft and in 22 oz. bottles! To date, we have raised over $150,000 for regional breast cancer charities through this national program, and we are pleased to see the momentum and excitement for our initiative grow stronger with each passing year. In addition to hosting our two bi-coastal Treasure Chest Fests, our team will be travelling the country to promote the program nationally. With your help, we are confident our collective efforts will help us reach our 2015 fundraising goal to raise an additional $150,000 for breast cancer charities. We hope you enjoy this year's Treasure Chest 2015 release and look forward to seeing you at the festivals and events. Together we will continue to raise a glass to find a cure.
Lisa Hinkley, VP of Marketing and Co-Founder Green Flash Brewing Co.
Thank You to Our Partners