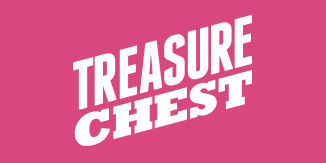 Our largest and most anticipated rare beer event of the year! For the 5th year in a row, Treasure Chest Fest will serve as a fundraiser for local Breast Cancer charity Susan G. Komen for the Cure San Diego.
This year's fest will introduce a tropical Hawaiian Luau theme so grab your best Tiki attire! Hawaiian shirts, grass skirts, and retro-inspired island kitsch apparel encouraged.
– Rare beer and cask creations on tap for one-day-only!
– Featuring the national debut of Treasure Chest 2015: An IPA brewed with grapefruit, prickly pear juice, and hibiscus flowers. 
– Food parings: Beers will be paired with small plates from local restaurants
– Behind the Craft: Culinary and craft beer demos taking place all day
– Photo (un)Booth: Smile.Pop.Party will be back to capture all the fun of the fest!
– Vendor Village: A local shopping experience
– Pin-up Girls: Fables by Barrie
– Tasting Room and Beer Garden: Open exclusively to fest attendees! 
All ticket holders will receive 10 rare beer tastings and 10 food pairings. Additional tasting tickets can be purchased at the festival.
| | | |
| --- | --- | --- |
| Beer name | Cask or Draft | Paired with  |
| Treasure Chest | Draft | |
| Natura Morta w/ Tangerine | Draft | |
| Rayon Vert | Bottles | |
| Citra w/ Buddha's Hand | Cask | |
| Special Cuvee Trippel w/ Banana and Cocoa Nibs | Cask | |
| Natura Morta w/ Blood Orange | Draft |   |
| Silva Stout w/ Mostra Coffee | Draft |   |
| ESB w/ English Caramel | Cask | |
| Duet w/ Blood Orange | Cask |   |
| Natura Morta w/ Plum | Cask | |
| Barleywine w/ Red Oak | Cask | |
| Barrel-Aged Ristretto w/ Bourbon Glazed Cherries | Cask |   |
| 12th Anniversary | Cask | |
| Coaled Ground: Bobo's Cold Brew collaboration | Draft |   |
| Babyface – Alpine | Draft |   |
| The Albino: Carnitas Snack Shack collaboration | Draft | |
| Flanders Drive | Draft | Green Flash Gastro |
| Fresco Sauvage | Draft | Behind the Craft Demos |
| Blanc Tart Barrique | Draft | Behind the Craft Demos |
| Silva Stout | Cask |   |
| Natura Morta w/ Cranberry | Cask |   |
| Pure Hoppiness | Draft |   |
FAQs
Do I need to be 21 to attend this event? YES – this event is open to those who are 21+ only. All ID's will be checked at the door prior to entering. Please don't purchase a ticket for anyone under the age of 21 as they will not be allowed into the festival.
Can I bring my dog/s? Sorry, NO DOGS allowed! As much as we love dogs we ask that you leave your four-legged friends at home for this event. They will not be allowed into the brewery.
What is the refund policy? No refunds. We will not be issuing refunds for this festival. 100% of the profit goes to raising money for Breast Cancer charities.
Do I need to print my ticket? Wherever possible please bring an electronic version of your ticket. We will scan your entry from your smartphone if you have one. 
Do I need to know the names of everyone I'm purchasing for? No, you can enter your name for all of them, just make sure they have a physical or electronic ticket when they arrive