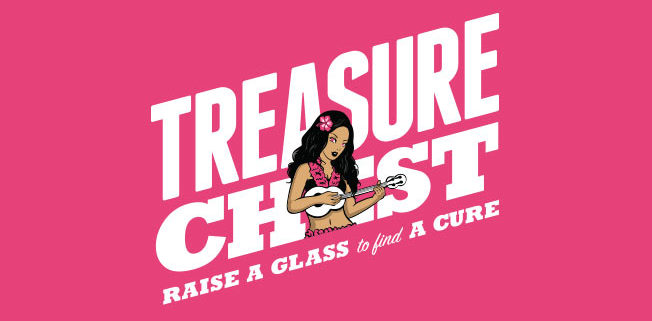 Join us for our largest and most anticipated rare beer event of the year! For the 6th year in a row, Treasure Chest Fest will serve as a fundraiser for local breast cancer charities. The tropical Hawaiian Luau theme is back by popular demand so grab your best Tiki attire! Hawaiian shirts, grass skirts, and retro-inspired island kitsch apparel encouraged. All tickets include food and beer pairings, commemorative glass, and festival flair! The festival will be held at Green Flash Brewing Co. in Mira Mesa and will take over the tasting room, beer garden, and outside space. Our team is busy working on the finest rare beer and food pairings and expect to see:
20+ rare beer, cask, and barrel-aged creations from Green Flash, Cellar 3, and Alpine Beer Company
2016 release of Treasure Chest: an IPA brewed with grapefruit, prickly pear juice, and hibiscus flowers
Food pairings from the best local restaurants
Behind the Craft: culinary demos and bonus tastings taking place throughout the event
Photo booth
Vendor village
MORE TO COME
Beer list: 
Treasure Chest – IPA Brewed with Prickly Pear Juice, Grapefruit Juice, and Hibiscus
Illuminated Frumento – Bourbon Barrel-aged Wheat Wine
Alpine: Not Nelson – Golden Rye IPA with Pacific Gem and Green Bullet hops
Alpine: Singled Out – IPA with El Dorado hops
Alpine: Willy with Pink Lemonade (cask) 
Alpine: Willy Key Lime Pie (cask)
Alpine: Duet IPA with Mango & Citra (cask) 
Alpine: Tiki Cocktail (cask)
Cellar 3/Alpine Collaboration: Raisn the Bar – Belgian Golden Strong with Bourbon Soaked Raisins
Baroque Belgique – Belgian-style Pale Ale with Brettanomyces 
Blanc Tarte Barrique – Sour Blonde Ale Brewed with Spices Aged in White and Red Wine Barrels with Rum Soaked Sun Dried Cherries (cask)
Divine Belgique – Trippel Belgian-style Ale with Pluots (cask)
Beach House – Ale Brewed with Spices with Fruit Punch (cask)
Natura Morta Boysenberry – Ale Brewed with Spices Aged in Red Wine Barrels 
Protege Sauvage – White IPA aged in Chardonnay Barrels with Brettanomyces 
Ochre Frumento – Barley Wine Aged in Brandy and Bourbon Barrels
Sepia Frumento – Barley wine aged in bourbon barrels
Natura Morta Raspberry  –  Ale brewed with Spices Aged in Red Wine Barrels with Raspberries
Eloquent Belgique – Belgian Stout
Nouveau Succulente – Trippel Aged in Tequila Barrels
Blanc Tarte Barrique – Sour Blonde Ale Brewed with Spices Aged in White and Red Wine Barrels
FAQs Do I need to be 21 to attend this event? YES – this event is open to those who are 21+ only. All IDs will be checked at the door prior to entering. Please don't purchase a ticket for anyone under the age of 21 as they will not be allowed into the festival. Can I bring my dog/s? Sorry, NO DOGS allowed! As much as we love dogs we ask that you leave your four-legged friends at home for this event. They will not be allowed into the festival. What is the refund policy? No refunds. We will not be issuing refunds for this festival. 100% of the profit goes to raising money for Breast Cancer charities. Do I need to print my ticket? Wherever possible please bring an electronic version of your ticket. We will scan your entry from your smartphone if you have one. Do I need to know the names of everyone I'm purchasing for? No, you can enter your name for all of them, just make sure they have a physical or electronic ticket when they arrive.